The Euro-Atlantic Resilience Forum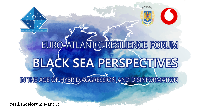 EARF 2022 focused on boosting regional resilience to global challenges
Bucharest hosted the Euro-Atlantic Resilience Forum, an event organized by the Euro-Atlantic Resilience Centre in Bucharest, bringing together key decision makers and top experts from NATO, EU and partner countries.
Devoted to Black Sea Perspectives in the Age of Hybrid Aggression and Disinformation, the forum was designed to pool the visions and perspectives of NATO, the European Union and the United Nations.
Over 60 speakers took part in 12 separate panels and side events, addressing the most important areas of resilience, as set out in the strategic documents of NATO and the EU: societal and democratic resilience, resilience to emergencies and disasters, resilience to climate change, resilience to emerging and disruptive technologies, the resilience of critical infrastructures such as transportation and communications, continuity of government and so on.
www.rri.ro
Publicat: 2022-11-24 09:29:00
Vizualizari: 841
Tipareste