A trip to the Craiului Forest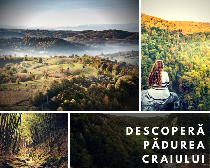 Padurea Craiului or the Craiului Forest is an area with breath taking landscapes.
The Padurea Craiului Mountains, an area with breath taking landscapes, delicious food and hosts that offer visitors unforgettable experiences. The offer also includes tourist routes, caves, climbing areas and visits to craftsmen. Paul Iacobas, the manager of this eco-tourist destination, tells us more about it: "The Craiului Forest is located in the north-west of the Apuseni Mountains, in western Romania. It is not a very high area, having around 600 to 800 meters altitude, but it has one of the less common elements found in Romania: the karst. This means you will find there many karstik caves, gorges and plateaus. This forested karst is one of the elements that makes the Craiului Forest a little bit different from other areas in the country."
The region has a lot to offer in terms of tourism, especially for those interested in adventure tourism, as Paul Iacobas tells us: "We can safely say that in the past few years the area has become an established destination for adventure, not only for professionals but also for people who usually spend a lot of time indoors, in front of a computer, and who want to bring some colour to their lives. It is also a very interesting destination for families with children and for the elderly, for whom we organise activities adjusted to their age. If we talk about the people who come here for adventure, I believe the Craiului Forest is a heaven in this respect, perhaps the most beautiful one in Romania. On a rather small area we have the most diverse activities in Romania, from visiting caves to biking, rafting and climbing. The Craiului Forest offers this entire range of activities and many others."
The tourist and cultural objectives here are numerous. Paul Iacobaș talks about two of them: "The Meziad Cave is well known to Romanian tourists as in recent years it has been mapped, marked and equipped. It is one of the longest and most beautiful caves in Romania, with a length of nearly five kilometers and several underground levels. As a cultural attraction, I would mention the wooden churches. Even if they are not as well known as those in Maramureș, they are at least equally old and interesting. "
If you are interested in handicrafts, you should know that there are many craftsmen in the Craiului Forest eco-tourism destination. Paul Iacobaș: "There is white pottery from Vadu Crișului here. It is a very rare kind of pottery and it is said that there are only one or two places in the world where this ceramic can be found, a type of ceramic without iron oxides, which give it the specific appearance, close to porcelain. In the area of Bihor and Craiului Forest, there is also the craft of trumpet violin. It is a violin to which a sound amplifier is attached. Thus, the sound of the violin becomes very metallic and sharp. It is one of the music instruments found at all community events here, from baptisms, to weddings and even funerals. "
According to Paul Iacobaș, the Covid-19 pandemic did not affect the plans of the organization he represents: "The Craiului Forest is part of the national network of ecotourism destinations in Romania. We have another project through which we plan to further develop the tourist infrastructure. We will work to develop some cycling routes dedicated primarily to families with children. We are also working on a calendar of events for the local communities and on a route called Via Ferrata. It will be a route adjusted not only to those accustomed to heights but also to families with children. This way everyone will enjoy the experience. "
This year, due to travel restrictions, fewer tourists than usual visited the area. However, all those who did, say they plan to return. Paul Iacobaș: "Most of the tourists who visited us appreciated the fact that it is not crowded, this being a less known area not only to foreign tourists, but also to Romanians. They are delighted that both nature and the architecture of buildings have been preserved in time. It is an ideal place for a 3-day or 7-day holiday. "
The Craiului Forest also boasts the longest cave in Romania - Peştera Vântului or the Wind Cave, with over 47 km in length. Last but not least, you have the opportunity to participate in traditional farming activities, such as mowing, fruit picking and animal husbandry. Details about accommodation in the area and the complete activity offer can be found on the website padureacraiului.ro.
www.rri.ro
Publicat: 2020-12-10 13:51:00
Vizualizari: 637
Tipareste