Winners of the Iasi Contest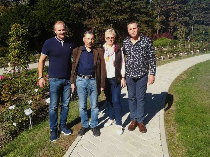 The Iasi - Historical Capital of Romania Contest
Dear friends, RRI has invited you to take part, before August 31, 2019, in the general knowledge contest called Iasi- Historical Capital of Romania, dedicated to the municipality of Iasi, in Iasi County, in the northeast of the country. Our listeners have shown great interest in the contest, and we received 193 correct and complete answers. Thank you, and we invite you to stay tuned and take part in future contests as well.
Two Grand Prizes will be offered to two RRI listeners, consisting of an 8-day (7-night) trip, full-board, over October 10-17, 2019, sponsored by Majestic Hotel in Iaşi.
The contest is co-organized by the Iaşi City Hall, The Bishopric of Moldavia and Bukovina, the Roman-Catholic Diocese of Iaşi, the Iaşi National Museum Complex, the Federation of Youth NGOs from Iaşi, Radio Romania Iaşi and other partners.

The answers were provided to you in RRI broadcasts, on our website, or on our Facebook and LinkedIn profiles. The contest ended on August 31st. Before we announce the winners, let us look at the questions once again.
-In what context was Iaşi the capital of Romania? Correct answer: Iaşi was the capital of the Principality of Moldavia between 1564-1859, one of the two capitals of the United Romanian Principalities (Moldavia and Wallachia) over 1859-1862, as well as the capital of the Kingdom of Romania between 1916-1918, during the Great War, when Bucharest was under German occupation.
-What was Iaşi declared over 2019-2020? Correct answer: Iaşi was declared the Capital of Youth.
-Which world leader visited Iaşi early this summer? Correct answer: His Holy Father Pope Francis.
Ten honorable mentions went to our following shortwave or web listeners: Mahmoud Hasaneyn, of Egypt, our co-national from France, Cătălina Leneutre, Javier Cebrián and José Luis Corcuera, both from Spain, David Iurescia of Argentina, Shahzad Shabbir and Adeel Tanveer, both from Pakistan, K. Saito of Japan, and Joachim Brendjord, of Norway.

Cătălina Leneutre wrote us from France: 'I am taking part in this contest because I want to visit Iasi, an emblematic city of Romania, and one which I don't know. I have been listening to RRI because I am from Romania, but I've been living in France for the last 18 years. RRI helps me keep up to date with current events in Romania, and keeps me close to my country of origin."
The 10 winners of the 3rd prize are: Fan Hongjie of China, Salim Sabah Al-Saray of Iraq, Oleksandr Kovalski of Ukraine, Francesco Paroli of Italy, Robert Essoh of Cameroon, Héctor Frías Jofré of Chile, Marcello Giampietri of Spain, Paul Gager of Austria, Nicolai Matveev of Russia, and Radhakrishna Pillai of India.
The 10 winner of the 2nd prize are: Adrian Receanu of France, Miodrag Ristici of Serbia, Goumidi Mohamed of Algeria, Helmut Matt of Germany, Olexandr Rosenberg of Ukraine, Antonella Monti, of Italy, Nouari Naghmouchi of Algeria, Oleg Voronov of Russia, John Rutlegeof the US, and Samir Mukhopadhyay of India.
The 10 winners of the 1st prize are the following: Mohamed El-Sayyed Abdel-Rahim of Egypt, Fritz Andorf of Germany, Oleg Miroshnykof Ukraine, Paolo Valente of Italy, Paul Jamet of France, Adriel Amaya Armas of Cuba, Anton Bostanjiev of Russia, Brian Kendall of the UK, Jakub Jedrzejczak of Poland, and Nasir Aziz of Pakistan.
Brian Kendall of the UK sent us the following message: "I was particularly interested in this contest since I knew nothing about the role of Iasi in WWI. Every time you have a competition, I learn something new about Romania. As for my listening to your broadcasts and following you online, that is easy to explain: your broadcasts have kindled a continuing interest in Romania in me."
The 10 Special Prizes went to the following listeners: Mei Lin of China, Amer Horbit Ouni of Tunisia, Olexandr Moseychuk of Ukraine, Tiziana Savarese of Italy, Christian Ghibaudo of France, Tony Morilla of Spain, Victor Varzin of Russia, Michael Cunnigham of Australia, and Carrie Hopper and Roberta Selesky of the US.
Roberta Selesky wrote us the following: "My husband and I listen to RRI every chance we get. We try to stay abreast of the news so when our opportunity to visit comes, we will be knowledgeable and informed. I also enjoy the Cooking Show! We would love to win this contest in hopes of reuniting with old friends, seeing and learning more about this beautiful country, and possibly retiring here. Thank you for the contests- we truly enjoy them! Blessings from the USA!"
Here is what our listener Carrie Hopper told us: "I decided to enter the contest, "Iasi, Historical Capital of Romania," because I would like to visit Romania. I want to experience firsthand what I have only heard and read about. (...) Furthermore, I know Romanian and visiting Romania would give me the opportunity to practice the language. I listen to Radio Romania International primarily in Romanian and Spanish. American media do not mention countries like Romania very often. Therefore, I listen to RRI to learn aboutcurrent events, cultural events, and tourist attractions in Romania. I can also hear a wide variety of Romanian music. (...) I am grateful to RRI for its informative programs. Keep up the good work."
And now for the long awaited moment. Answering correctly the questions in the contest, the grand winner of an 8-day (7-night) trip, full-board, over October 10-17, 2019, sponsored by Majestic Hotel in Iaşi is... Anna Nakhapetian of Moscow, the Russian Federation. She will be joined on her trip to Romania by her husband, Kiril Nakhapetian. Congratulations, we are eagerly awaiting your arrival in Romania!
We would like to thank everyone who sent us their answers, and told us what motivated them to take part in the contest.
Prizes and honorable mentions will be sent by mail in the upcoming months, depending on the available budget. We would kindly ask you to send us a confirmation letter or e-mail, also detailing the contents of the package. Thank you once again for taking a chance on answering RRI's contest, and you are invited to take part in future contests that we will be organizing, continuing next year.
www.rri.ro
Publicat: 2019-11-08 14:05:00
Vizualizari: 17089
Tipareste