Eggplant dishes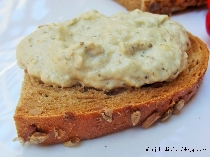 We invite you to try recipes involving eggplant
This time we invite you to try recipes involving eggplant, or, as they are known in British English, aubergines.
The simplest of recipes is eggplant puree, which, for reasons unknown, is called 'eggplant salad' in Romanian. Pick a few medium sized eggplants and get ready a thin metal plate to set over the fire. Roast the eggplants, turning regularly to cook evenly.
When they are cooked through, leave to drain to get rid of the bitter, dark juice. Carefully take out the pulp and mash into a paste. Be careful to use either a wooden instrument or a stainless steel knife, because the eggplant makes a chemical reaction with non-stainless steel, which ruins the dish. Mix in a bit of oil, salt to taste and a finely chopped onion.
It is usually spread on bread, but you can also use carrot or celery sticks, as well as bread-sticks. The recipe came to Romania from the Middle East via the Ottoman Empire, but in the original Turkish recipe, garlic is used instead of onion. One variation, which is considered to be North African in origin, is to mix in slices of roasted red or bell pepper.
That recipe also goes well with roasted and crushed cumin, and if you prefer hotter food, you can also mix in fresh or dried hot pepper. It is usually served with slices of tomato. One typical Middle Eastern dish based on eggplant puree is baba ganoush, in which humus is mixed into the paste, humus being the chickpea puree that is eaten at almost every meal from North Africa to India.
Enjoy!
www.rri.ro
Publicat: 2018-08-19 12:41:00
Vizualizari: 1558
Tipareste