Laurent Jouault of France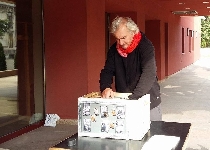 Laurent Jouault left the wonderful region of Mont Saint Michel of France to settle in another dream-like region in Romania: namely southern Moeciu
Laurent Jouault left the wonderful region of Mont Saint Michel of France to settle in another dream-like region in Romania: namely southern Moeciu, in the Southern Carpathians, a place located between the Piatra Craiului and Bucegi massifs, on the Rucar-Bran corridor.
Laurent Jouault settled in Romania 8 years ago as he married a Romanian woman: "This is destiny. It so happened that one day I decided to leave my job back in France and come to Romania. I came to Romania for the first time in 1997. I visited Romania on and off before settling here for good. Back in France I was the director of a Youth Centre. I was working as a socio-cultural animator, taking care of children and youngsters, organizing various activities, trips and so on, in brief activities for children and youth. This is how I came to Romania for the first time. It was an exchange between Romanian and French youngsters. Once I settled in Moeciu I carried on with the main activity I was undertaking in France. I also animated photo workshops, so I continued to do what I did best, since I am a photographer."
Against the backdrop of the scenic landscape at the heart of the Carpathians, Laurent Jouault opened in his courtyard, in the former workshop of his wife's grandfather a "House with Images"- La cabane aux images, a museum –gallery meant to help visitors discover the history of photography, mainly film photography. As Laurent Jouault recollects on his personal blog, on a Saturday, on July 11, 2011, friends and neighbors from Moeciu and from neighboring Rasnov and also from Normandy, came to attend the official opening of the 'House with Images'. It was a rather crazy idea to open an exhibition in a village at the foot of the Carpathians!
But… "It is an area open to the public, it is both an exhibition and a museum devoted to old photographic techniques. I still work using these techniques and I exhibit here the photos I take. Since I have the chance to live in a village, which is a hot spot for tourists, the "House with Images" gives me the chance to meet a lot of people. In the village, my museum has become quite an attraction both for locals and tourists. This was actually my intention when I set up the House: to make it a meeting place where people should discover things and open themselves to new things, and where other artists are invited to exhibit their works. It is a place where artists can exchange experience on the issue of old photographic techniques."
Being an expat is not always easy, because you can't help missing your home country. Laurent Jouault was lucky because his wife is a Romanian from Moeciu, so he adapted more easily: "Opening the 'House with images' allowed me to get to know more people from the village and I have made a lot of friends. Not to mention that I am not the only foreigner in Moeciu! There are 2 other foreigners: a Spaniard and a German woman. It is difficult to live far away from your native country. I have managed to have a good command of the Romanian language, although I still make mistakes. But people often congratulate me for my good command of Romanian and are surprised to hear that I am not a Romanian".
Moeciu is for many Romanians an ideal place for spending their free time, both for entertainment and relaxation. The scenery, the clean, fresh air of the area, the mountain tracks proper for hiking, the tourist sites, the abrupt hills, the chalets and guest houses make the area a genuine piece of heaven. So living in Moeciu is a real chance per se. Laurent Jouault has also visited many other places across Romania, such as Maramures in the north, Bukovina in the northeast, the Danube Delta in the southeast.
Visiting those places was an opportunity for Laurent to capture on film Romania's beauties: "Romania is a country of contrasts. Contrast is the word that best characterizes this country. It is the contrast between those who drive 4-wheel drive cars and those who drive horse-driven carts. It is the contrast between those who have high-tech mobile phones and those who live in sheer poverty. I can feel here in Romania a sort of dynamism combined with uncertainty for tomorrow."
For Laurent Jouault photography is synonymous with the word 'meeting'. It is the meeting between a French guy and his country of adoption, Romania, which he continues to explore and discover through the lens of his film camera. (Translated by Lacramioara Simion)
www.rri.ro
Publicat: 2016-01-27 13:11:00
Vizualizari: 5373
Tipareste